You wont break your back with a Mangrove Jack!
Facts & Tips
Facts & Tips
When we say 'you won't break your back with a Mangrove Jack' – we mean it! Our unique 'fully anodised' boat trailer weighs just 38kg with the heaviest piece weighing in at only 8kg.
Western Australian designed, the Mangrove Jack is foldable, portable and built to last a lifetime. Here are some other interesting facts about this amazing boat trailer.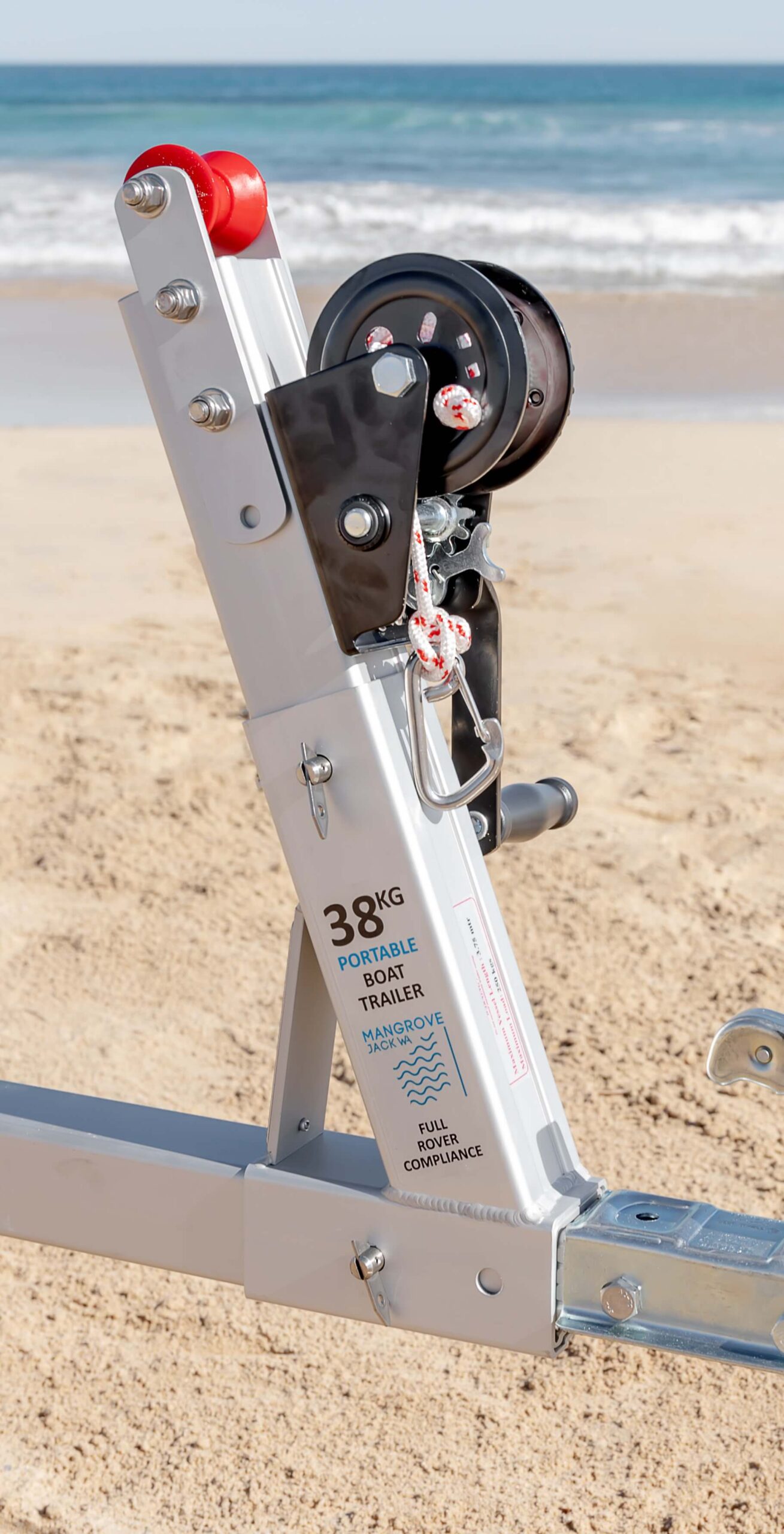 Specifications
| | |
| --- | --- |
| Overall Length | 3.4m |
| Overall Width | 1.56m |
| Longest Single Piece | 1.55m |
| Weight | 38kg |
| Heaviest Single Piece | 8kg |
| Max Load | 250kg |
| ATM | 360kg |
| *†Max vessel Length | 3.8m |
| Max Outboard Weight | 53kg |
| Speed Limited | 100kph |
| Tyre Speed Rating | 130kph |
| Licensable in All States | Yes |
* Dinghys up to 3.90m can often be compatible with a rear extension installed.
† Dinghys over 3.75m with "Widebody" or Bigboy" style hulls are not compatible.
Please contact us to discuss your options if you are concerned you may exceed our limitations. We do look at individual cases.
Storing your trailer
We have a range of options for storing your boat trailer whilst on the move.
Storing the trailer inside your dinghy. We can supply the correct extrusion to do so.

Front mounting caravan brackets (custom designed to suit your setup)
Built to Last
The Mangrove Jack is Australia's only fully anodised aluminium boat trailer. Anodised aluminium is highly resistant to corrosion, making the Mangrove Jack one of the most sought after trailers on the market.
Easy Reversing
Boasting a built-in extending hitch coupling which makes reversing a little easier. This is particularly handy when winching where a spare wheel is mounted on the rear of the vehicle.
Easy Assembly
The Mangrove Jack boat trailer is very easy to assemble and best of all, there are NO tools required. All of the components simply slide into position and are pinned with our own spring loaded gravity pin (Registered Design) – 2 minute casual assembly, 1 minute dis-assembly. There are no nuts or bolts to do up, or fiddly bits to lose and NO heavy frame to lift.
Light As!
That's right. The Mangrove Jack boat trailer weighs around the same as your average Labrador – just 38kg. The heaviest piece you'll lift is just 8kg and the longest piece is just 1.5m, making the Mangrove Jack the ideal trailer for adventure-seeking seniors.
Innovative
With so many innovative design features, it's no wonder the Mangrove Jack is one of Australia's favourite boat trailers. Check out these innovations below.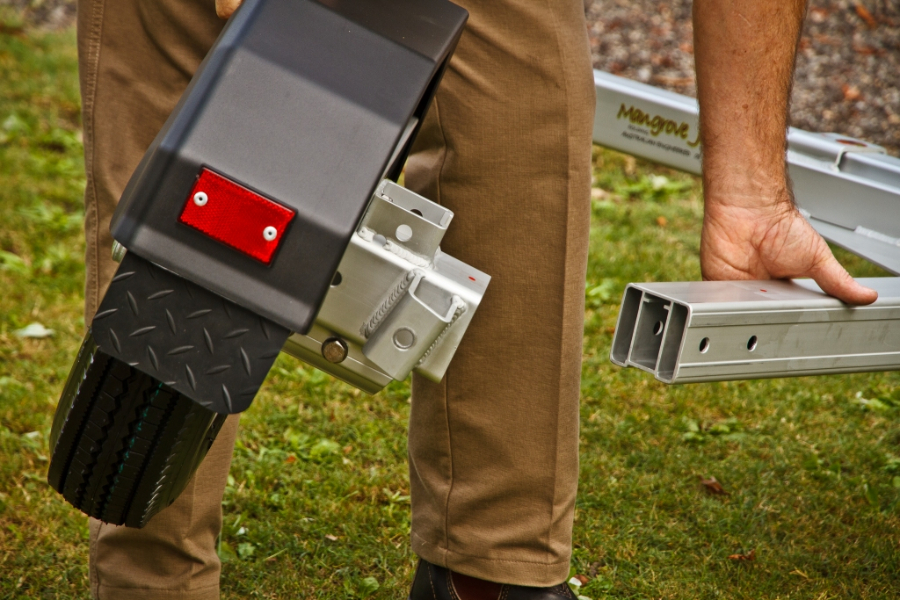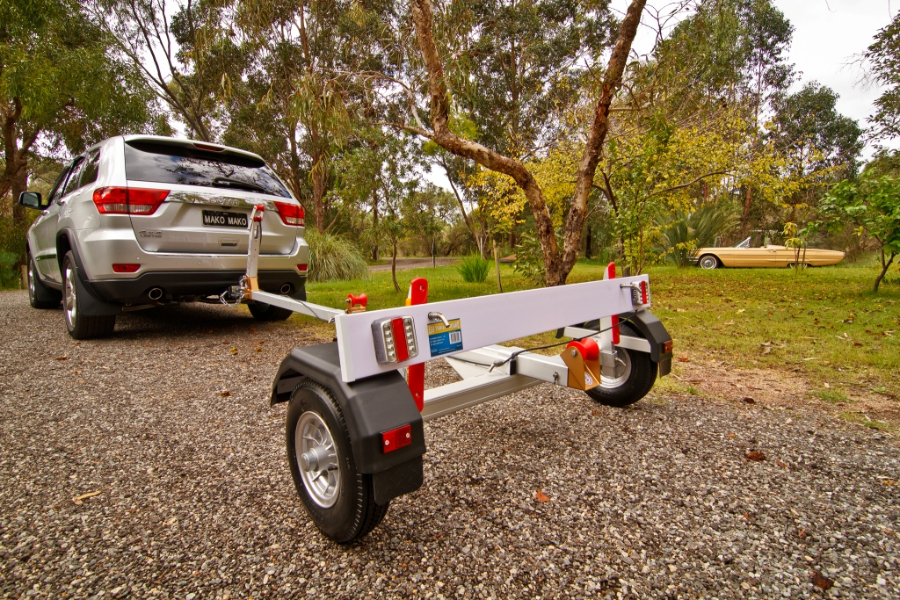 Innovations
Our registered design allows the wheels to be removed from the trailer by pulling a pin. This immediately removes the bulk of the weight, and enables the wheels to be stored separately.

The main drawbar is concertina instead of folding, allowing for more compact storage and simpler handling.

Our unique sliding rail extrusion is manufactured from aircraft grade aluminium for non-jam concertina operation.

Australia's only fully anodised aluminium and stainless steel boat trailer. Designed to last a lifetime.

Components can be divided separately for storage, making the Mangrove Jack ideal for camper trailers.

Deeper than normal nylon rollers are used to keep the keel on track.

The Mangrove Jack is human and travel friendly – with no sharp edges. Features large rounded corners to most components and alloy sections.

Shin friendly with poly mudguards (instead of metal).

Comes standard with 316 Stainless Steel stub axles, which means no rust.

Alloy wheels with Holden bearings and 6 ply tyres.

Marine seals and marine grease.

All parts simply slide on or off. No bolts or tools required anywhere.