Amazing portable boat trailers
Amazing portable boat trailers
In 2006, after more than 35 years in the boat building industry, award winning engineer and inventor, Gavin Ager, established Mangrove Jack Marine.
A proudly Western Australian owned and operated business; Mangrove Jack Marine is home to Australia's most innovative boat trailer – the Mangrove Jack. Weighing in at just 38kg, this popular trailer is now sold right across Australia.
Proud new owners, Malcolm & Kelly van Delden, bring to the business over 15 years of fabrication experience and a level of custom design to suit all your fabrication needs.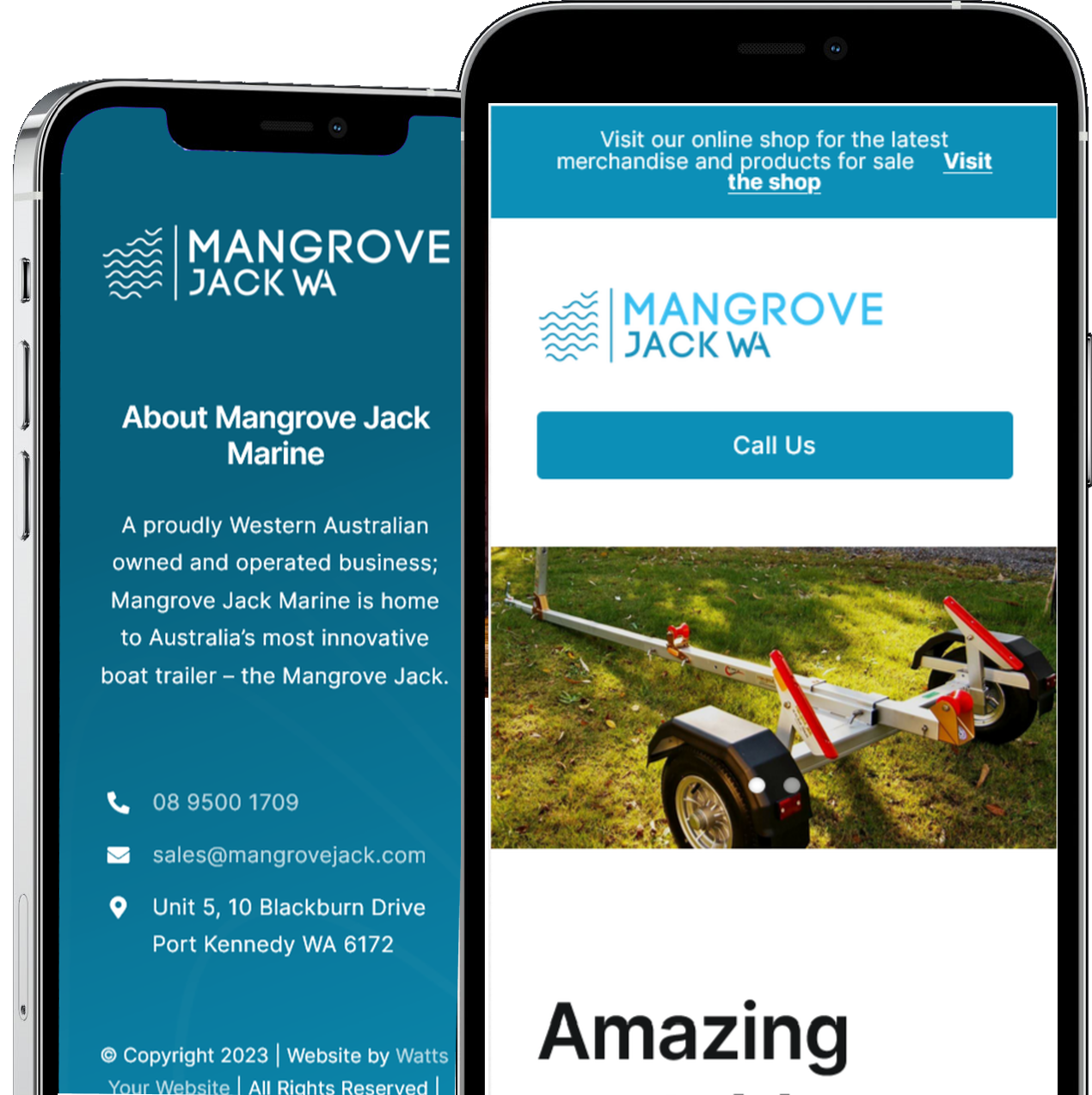 Stay up to date!
Stay up to date!
Find out about new releases and tips on towing your boat!
What our customers have to say
We have had our Mangrove Jack trailer for nearly 2 years now and are halfway through our second round Australia trip with the trailer carried comfortably on the rear of our van.
The quality of the trailer and fittings is second to none. We have used it extensively and it has turned out to be an extremely good investment and is better by far than another well known brand of fold up trailer we had before. Anyone considering buying a quality trailer could do a great deal worse than buying a Mangrove Jack.
I'm as happy as a dog with 2 tails .
Received my trailer last week what a great piece of engineering .Looking foreword to years of use it's even better than I imagined. Congratulations on such a great product.
To say I am impressed would be an understatement. I am extremely happy with the new boat trailer purchased from Mangrove Jack.
It is exactly what I expected and every part of it is professionally manufactured and easy to assemble, especially without the need for any tools.
Thank you for a great product, I look forward to using it when I head north in a few months time.
I purchased one of your fantastic trailers (Second Hand) very hard to find second hand mind you! I guess now owning one I wouldn't want to sell it!
I bought it for my 3.6m inflatable which I was not convinced by the seller that it suited my boat. This is where your after sales service and experience even though I bought it second hand, a phone call and visit with my boat and trailer you recommended some adjustements. I'm extremly happy to know that I now have the best set up for my boat. I have, and will continue, to recommend your trailer to any considering to buy this great product!!
Our trailer arrived today, everything good, had a test run at assembling—–bloody great!!!
Many thanks for the service & the product, and the communication.
All the best for the future, I will certainly recommend you to everyone!!!!
This is just to let you know that the trailer is registered in the ACT (no dramas) and takes the 3.45m Blue Fin Trekker v-nose punt very nicely (with the winch in the forward position). I added a jockey wheel bracket and made up a my own jockey wheel with a plastic wheel with pneumatic tyre from Bunnings about 26.5mm diameter and this will make it easy to move the boat around on soft ground or sand.

I have done the maiden voyage using the trailer on local roads at the NSW south coast and all went very well.
I am very happy with the trailer – it is well thought out, very nicely made and meets my needs exactly.
Just a quick note to say how happy I am with the quality and ease of operation of the trailer. I have put the Stacer 379 with Suzuki 15hp 4 Stroke on and off without any problems and it looks a treat…..coupled with the Custom Boat Loader I now have a great setup. Thanks for the tour and service…..as you say 'Happy Travels'
I would like to thank you very much for the trailer I ordered. It was very easy to assemble and it looks fantastic. I would also like to thank you for your service. You were very easy to deal with and kept me updated with the progress of my purchase at all times.
Trailer arrived this afternoon in Bris Vegas all well & good. The quality looks good on the screen however when you have it in your hands the engineering and quality is superb, I'm a Techie and I can clearly see this is a quality piece of kit.
Thanks very much for all your service and advice etc, I'll certainly be recommending you guys to all I meet on our trips and travels
It took all of 15-20 minutes to unpack the boxes read the paperwork and have the trailer all put together ready for the boat. Depts. of Main Roads tomorrow for the Rego and that's it.
Can't wait for the weekend to take it for a drive to put the boat in the water and let it get wet for the first time (Boat Motor & Trailer), and now really looking forward to our Grey Nomad trial trip next year to Karumba for 6 weeks.
Again thanks guys and hope you all have a very Merry Xmas and a great and safe New Year.
Just a quick email to say that the eagle has landed the trailer is brilliant and your quality control must be nothing but excellent it arrived in terrific order and as you say , it is so easy to put it together , and of significant importance to me the various parts and the sum of the parts are so light but very functional . Thank you so much we are very , very happy with the product and the service which identify your company as an all round smart company and the product exemplifies this Congratulations SATISFIED CUSTOMERS.
Hi guys, well just thought I would send you an email after another great day on the water. We bought one of your trailers a bout 18 months ago and we love it. We have been up through the middle of Aus. on this trip and and up to Cape Leveque and now heading down the WA coast to Perth and then back to Melb. We have demonstrated the trailer to many people and I think I must have sold a dozen !! Well done and great product. Saw one at Middle Lagoon with nice gold coloured bits on it, nice touch. We look like changing our boat soon from a stacer 350 to a SeaJay 375 or similar and will again use our Mangrove Jack to transport it.